I have used more than 10 popular rental management software in my last 5 years of DIY landlord-ship before finding the right solution for my needs.
As a landlord who manages a few self-owned residential properties, I know how challenging it can be to manage them. 
I have done that and been there, jumping from Excel sheets to note-taking apps and then trying multiple property management software. Every solution had something unique but lacked some of the most basic features I needed to manage my rental properties from one place.
Some had robust rent collection systems while lacking tenant screening. Some are good at listing syndication but do not offer features like real-time bidding.
And apart from features, there are software out there that seem to offer it all but costs us a leg and an arm in subscription charges. Can you imagine paying $1500 monthly in subscription for managing your rental properties? Yes, some software charges hefty subscriptions like this for that "all-in-one solution."
But don't panic! I have already done the heavy lifting for you, so you don't have to.
In this review article, I'm sharing my first-hand experience gathered over the years as I delve into the top 7 rental property management software options.
Core features of a rental property management software
Thorough Tenant Screening 
The last thing you want in your property is a bad tenant who does not pay you rent and ends up being a non-paying renter. Look for software that provides an in-depth tenant screening report, including background checks, credit reports, rental history, and eviction checks. 
Rent Collection with Real-Time Tracking 
An online rent collection module is one of the most essential features of any tenant management system. Though most of the software has this module of electronically settling rent payments via ACH, not all have a robust tracking system with detailed ledger reporting for landlords and renters. So, remember that online rent collection alone won't make your accountant happy. 
Automated Late Rent Fee Collection
I can't emphasize enough that having an automated late fee collection system is like a boon for landlords. In my experience, the rate of late rent payments has drastically reduced after implementing it. It keeps the tenants on alert due to the automatic enforcement of late rent fees on top of their rental amount. 
Property Listing, Advertising, and Syndication
Getting the right eyeballs drawn to your listing is the only way of filling vacant property faster. Apart from property listing on the actual property management application, syndication to other popular property listing platforms like Zillow and Realtor is a must to attract those right eyeballs to your rental unit. 
Real-Time Bidding 
Live Offering is another fantastic tool for maximizing the rental yield by enabling interested tenants to cross-bid on your listing. Real-time bidding competition almost always exceeds the reserve price of landlords. There are very few tenant management software available that offers this feature out of the box. 
Property Showing Scheduler 
Scheduling a property show is one of the most time-consuming tasks for any DIY landlord or property manager. An average real estate agent does spend about 10 hours a week on manual scheduling. So, an automatic showing scheduler is always a plus to avoid double bookings and following up automatically with booked appointments. 
Manage Maintenance Requests 
The software should allow tenants and landlords to create maintenance requests from the dashboard. And be capable of managing maintenance requests and their scheduling. 
Subscription Cost
Now comes the main part, the subscription charges for software. You need to determine what software suits your requirements and its pricing structure. Most of the software in the market are owned or acquired by big corporations, some of which charge hefty subscription costs. 
These are all the significant features any DIY landlord or property manager would need in their rental management software. Now let's discuss and review some of the popular and finest software choices among landlords. 
And remember, not every solution that charges a premium amount offer all the features. I am using the software – 'RentMe,' which is built by a team of 3 landlords. And they have made it entirely free for fellow landlords. So do keep an eye on that. 
#1. RentMe: 100% Free Forever and Offers Real Time Bidding

In my review, RentMe topped the list of best property management software for small landlords. It's built by landlords who understand what it takes to own and manage a rental property.
The main USP of RentMe that is unique to them is their Live Offerings™ feature that allows applicants to bid on your property listing, resulting in maximized rentals.
It offers everything from competitive high-value features like online rent collection, free tenant screening for landlords, property listing, and syndication to all the popular websites like Zillow, Realtor, Doorsteps, Hotpads, and more.
There is no cap on the number of rental units you want to manage, whereas every other software in the market has either capped the number of units that can be listed or charges per unit basis.
RentMe Features
Rental listing on RentMe

Advertising and automatic synced syndication on popular property listing websites like Zillow, Realtor, etc. 

Live offering feature:

It allows applicants to bid on property listings that maximize the earning potential of any property. 

Free tenant screening for landlords 

Credit and eviction reporting
Tenant rental history reporting
Tenant/leads management dashboard
Online rent collection: 1-day rent collection
Automated late fee collection and receipts
Renters Insurance
Property showing scheduler
Maintenance request management
Automatic follow-ups, reminders, and notifications
Rentme is totally free for landlords for an unlimited number of rental units without capping on any feature. It's the only comparably robust software that has been entirely free from 2015 till now.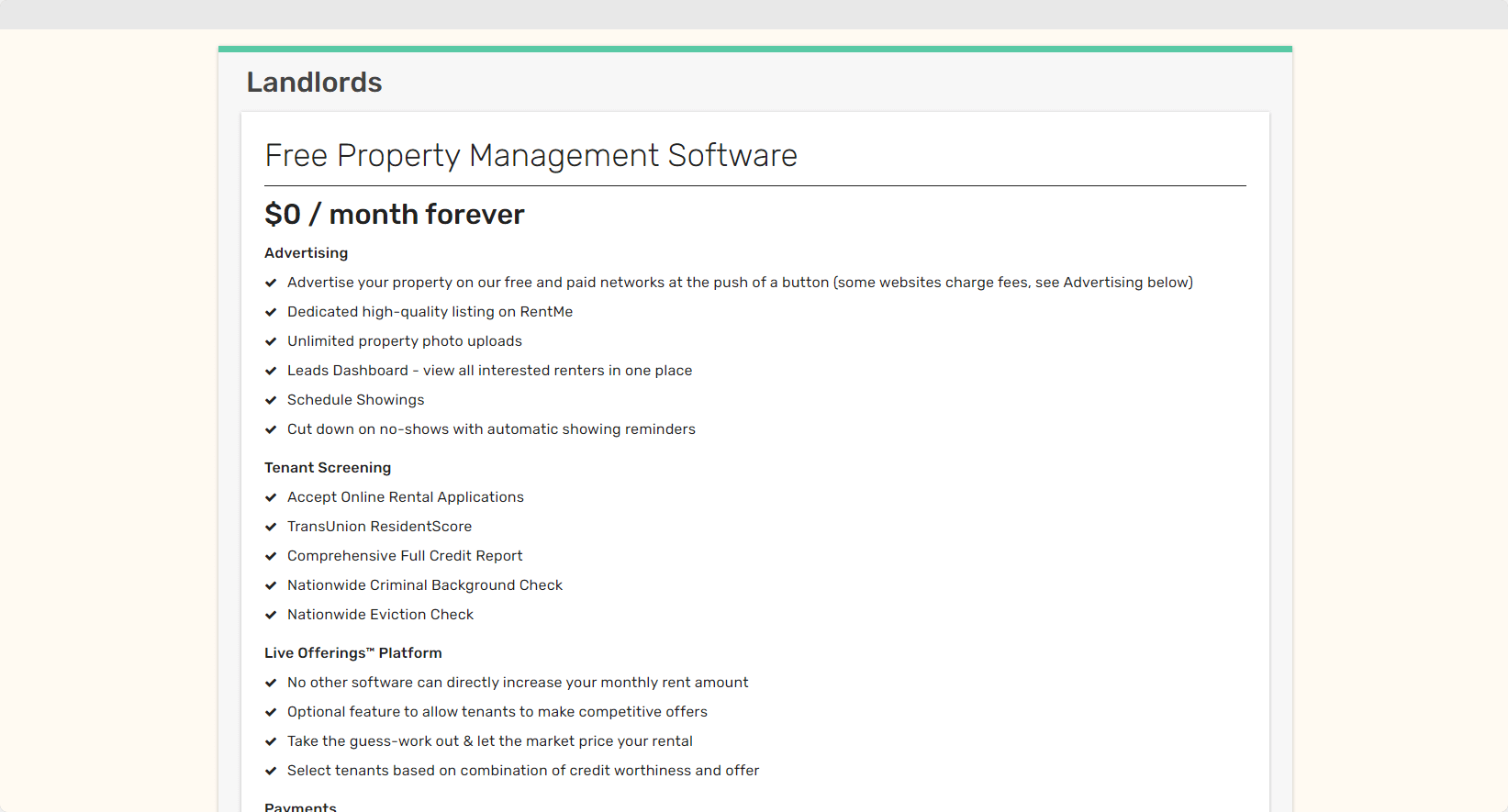 #2. TurboTenant

Turbotenant also offers a solid free plan but with limited features. Features like tenant screening, expedited rent collection, and a few others are limited to premium subscription plans.
TurboTenant Features
Property listing syndication

Online rental applications management

TransUnion tenant screening report

State-Specific Lease Agreements

Maintenance requests

Online rent collection

Messaging module for direct communication with the tenant

Expense tracking
TurboTenant Pricing
Along with a free subscription plan of TurboTenant, there is a premium $99/year plan as well that unlocks several premium features mentioned above.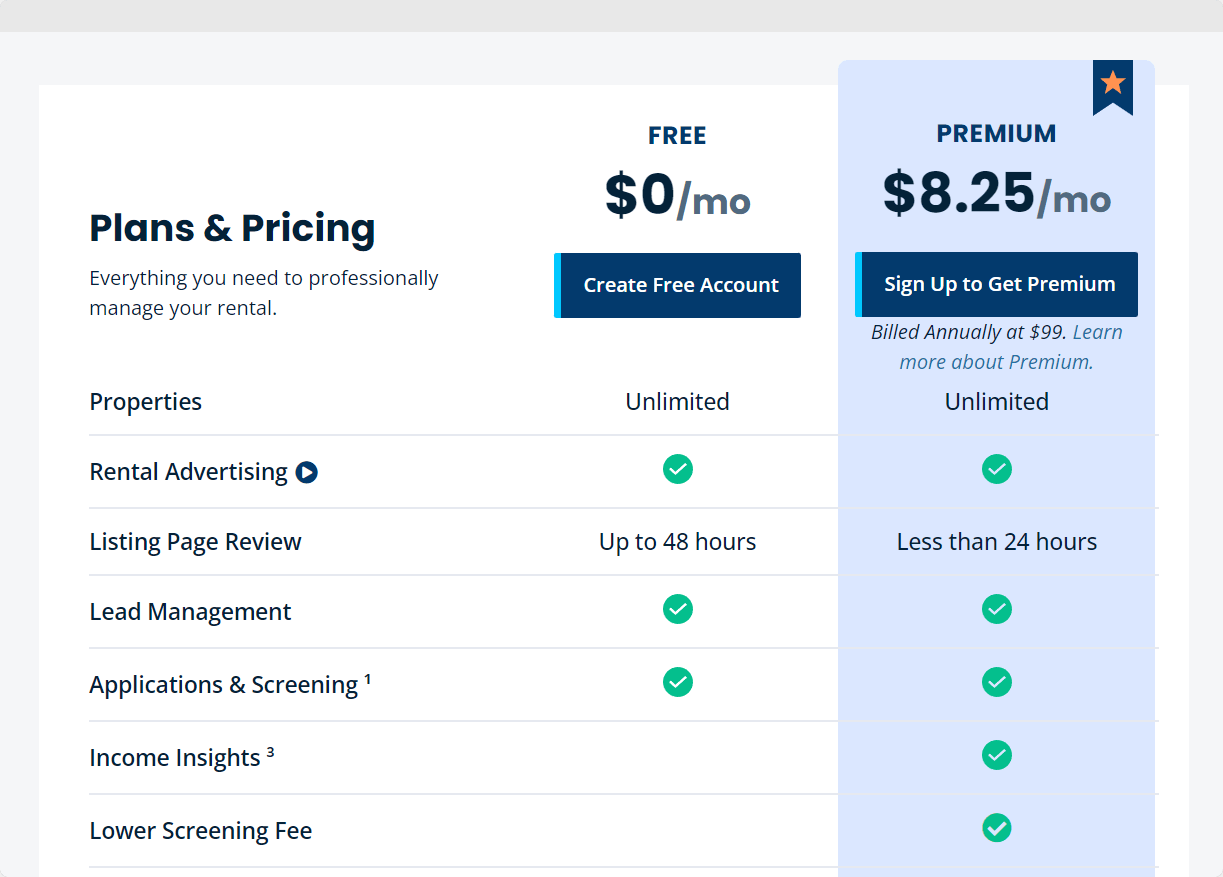 #3. TenantCloud

TenantCloud is also a cloud-based property management software for small landlords. The good thing about TenantCloud is that it does not charge on a per-unit basis. Instead, they offer 3 plans with a distinct set of features. 
TenantCloud Features
Property listing syndication 

Online rent collection

Rent reporting with QuickBooks integration

Electronic lease management

E-Signature

Maintenance request management

Tenants messenger

Tenant screening
TenantCloud Pricing
TenantCloud offers three plans for property managers: the most basic plan, 'Starter', starts at $15/month, and the 'Growth' plan is priced at $50/month. Another custom plan for additional features like platform white-labeling includes custom domain integration, company logo, no TenantCloud banner advertising on the dashboard, and more.
They also offer a free trial on Starter and Growth plans.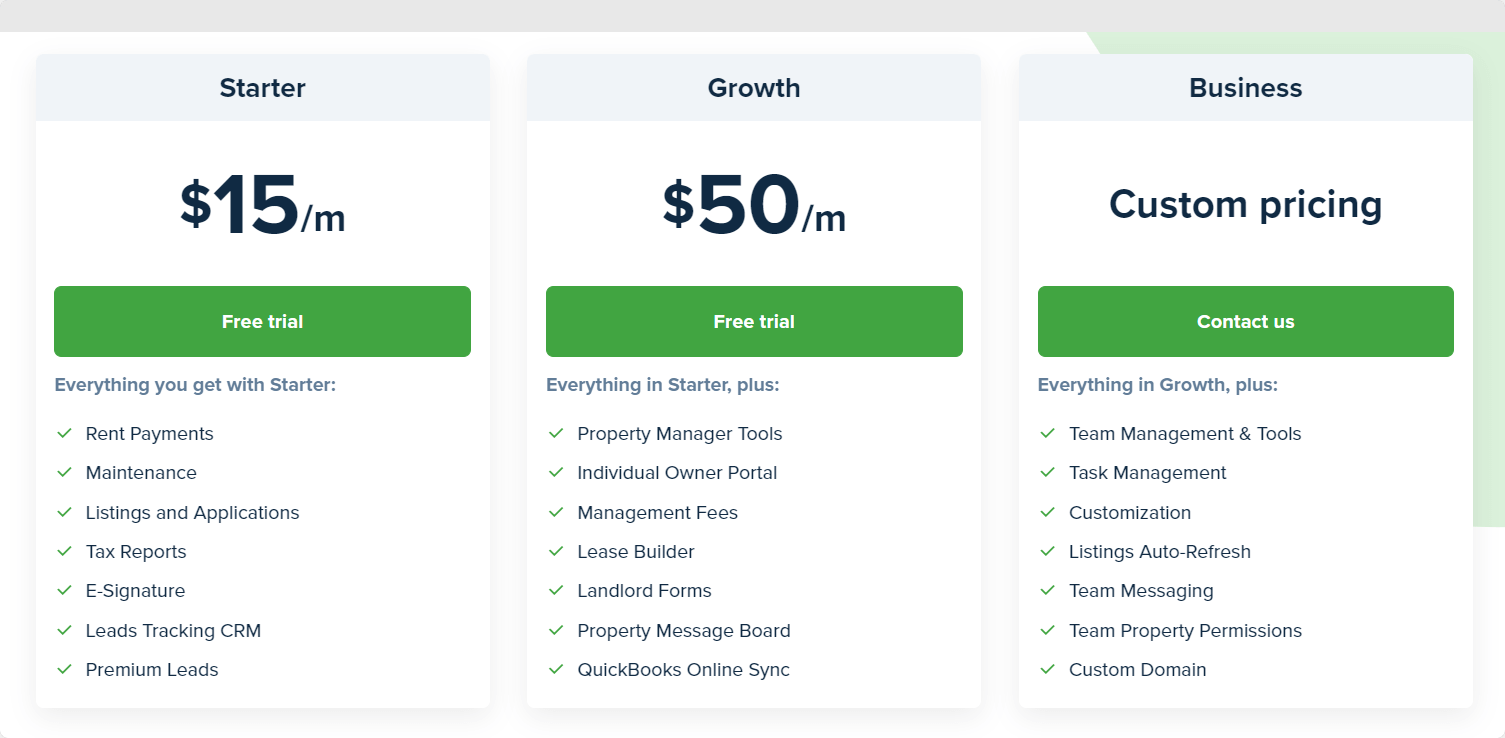 #4. YardiBreeze

YardiBreeze is one of the oldest property management software in the market. They have been in operation since 1984, making them a more experienced service provider than any other off-the-shelf property management solution.
YardiBreeze is suitable for landlords and property managers who manage multiple kinds of properties, including residential, commercial, manufactured housing, self-storage properties, associations, and affordable housing.
YardiBreeze Features
Rental listing syndication

Online lease management

Online rent collection

Maintenance request management

Property accounting

Renters Insurance

Tenants application management
YardiBreeze Pricing
YardiBreeze primarily offers 3 subscription plans. However, the pricing seems very simple and low initially, but the minimum per month cap makes it steep for most landlords. 
It offers 'Breeze' and 'Breeze Premier'. Breeze is priced at $1 per unit per month but with a $100/month minimum, so the landlord must pay at least $1200 upfront for a year, even if s/he wants to manage one or ten properties. And the 'Breeze Premier' is offered at $2 and $3 per unit per month with a minimum per month charge of $400 (paid annually), i.e. $4800 per year.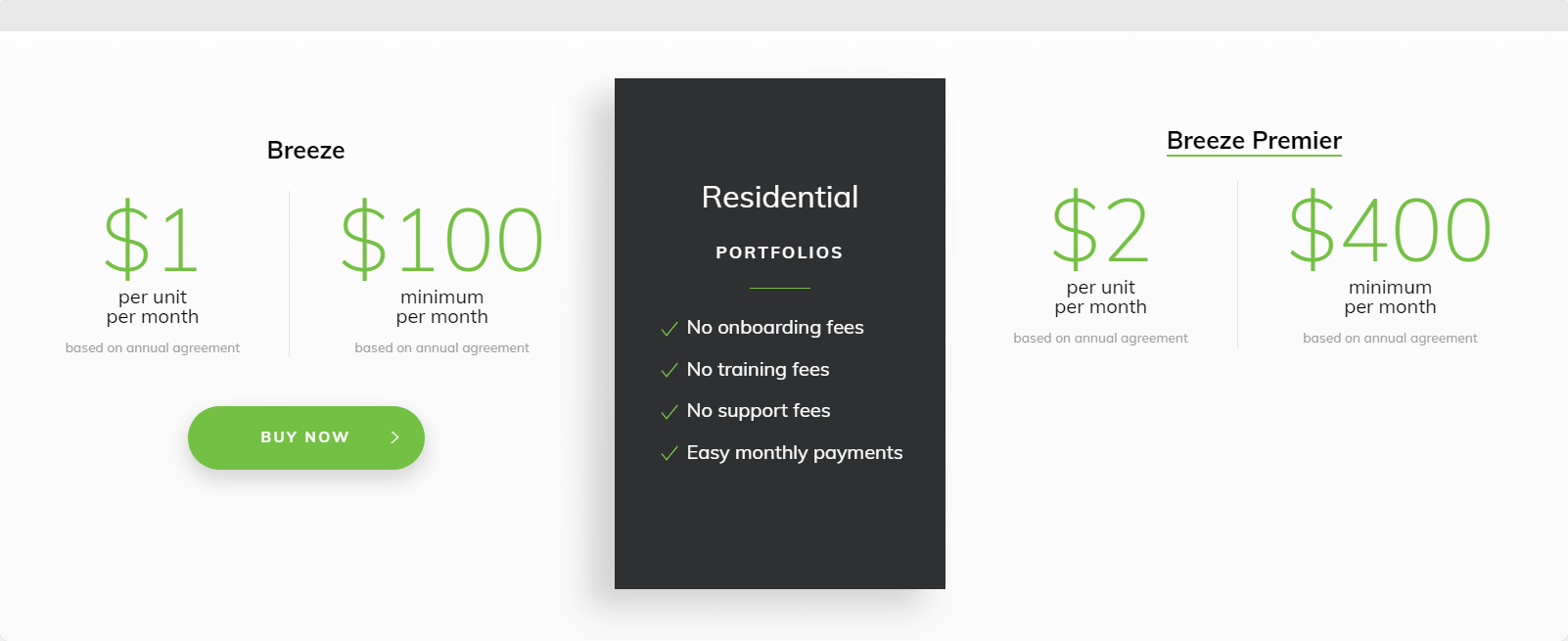 #5. Buildium

Buildium is another old contender in the list of best property management software for landlords. It has been actively offering real estate management solutions since 2004. 
It is designed in such a way as to cater to the needs of small and large landlords. It allows the users to customize their features pack according to their needs. 
It also offers some unique tools for community association and homeowners association (HOA) management. Features like online portals, tenant communication, and faster application processes.
Buildium is designed for landlords with 50 or more properties in their portfolio.
Features
Tenant screening

Collect rent online 

Online portals

Accounting

Standard reports 

Business Analytics

Performance Analytics

Property inspection

Maintenance management

Rental listing syndication

Expense tracking

Open API
Buildium Pricing
Regarding pricing, creating an account on Buildium will cost you somewhere between $50 to $460 a month, depending on the number of properties you want to manage. 
Specifically, it offers three plans: essential, growth, and premium. 
Essential plan starts at $52/month.

Growth plan starts at $166/month.

Premium plan starts at $479/month.

It has no free version but offers a 14-day free trial which landlords and property managers should try before making a long-term commitment.
The essential plan is an excellent option to consider for small landlords. Still, some features have to be paid separately, such as property inspections ($40+/month), eSignatures ($5/eSignature), online payment transaction fees, and bank account setup fees ($99/bank account), which seems a bit on the higher side considering the software.
#6. Avail

Avail is a subsidiary of Realtor.com, which makes it a prominent choice among several new landlords. Realtor.com's vast listings and pricing trackers database help analyze and set the right rent prices. 
Avail allows property managers to manage an unlimited number of units. 
Features Included
Listing syndication to several platforms: Realtor.com, Apartments.com, Padmapper, Walkscore Zumper, Rentable, Rentalble, ApartmentList.

Rental applications and leads management
Online tenant screening with credit, criminal, and eviction reporting
State-specific customizable lease templates
Next-day payment collection
Inbuilt accounting
Property maintenance tracking
Avail Pricing
Free plan with unlimited rental units management

'Unlimited Plus' plan at $7/unit per month, which unlocks several essential features like expedited payment collection, customizable applications, and leases.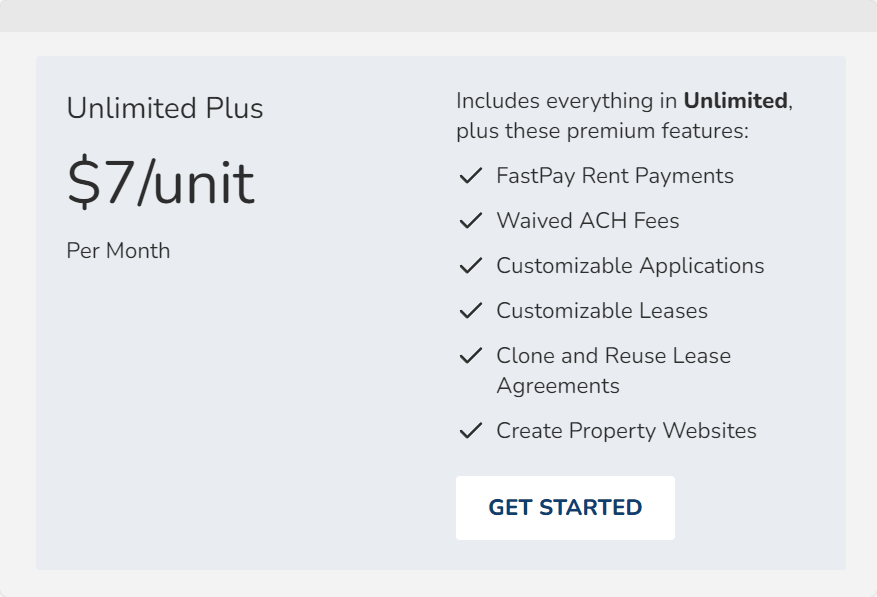 #7. SimplifyEM 

SimplifyEM offers the most plans based on the number of rental units. There are 8 plans on offer for managing from 10 to 2000 units.
Primarily it focuses on accounting, tracking, and collecting rent efficiently.
It supports up to 2,000 units, but some features are only available for plans with more than 50 properties. Features like creating portals – tenants and owners, automatic rent reminders, and managing bank accounts are reserved for higher plans. For assistance, SimplifyEM has live phone lines and email support.
If I compare it with other software on the list, it seems a little limited in features for base plans.
Features
Tenant screening starts at $19.95

Listing advertising

Online rent payment

Online rental applications – $3 per application

Late fee collection with late rent notices – reserved for 50+ listing plans

Rent receipts and export for bookkeeping – reserved for 50+ listing plans
SimplifyEM Pricing
The base plan 'P10' that supports the management of up to 10 properties starts at $35 per month. While 'P20' and 'P30' are priced at $45 and $55 respectively. SimplifyEM calls these three plans as 'Starter'.
Then they have 5 additional plans, P50, P75, P100, P100+, and P2000, for managing properties upward of 50 units to 2000 units.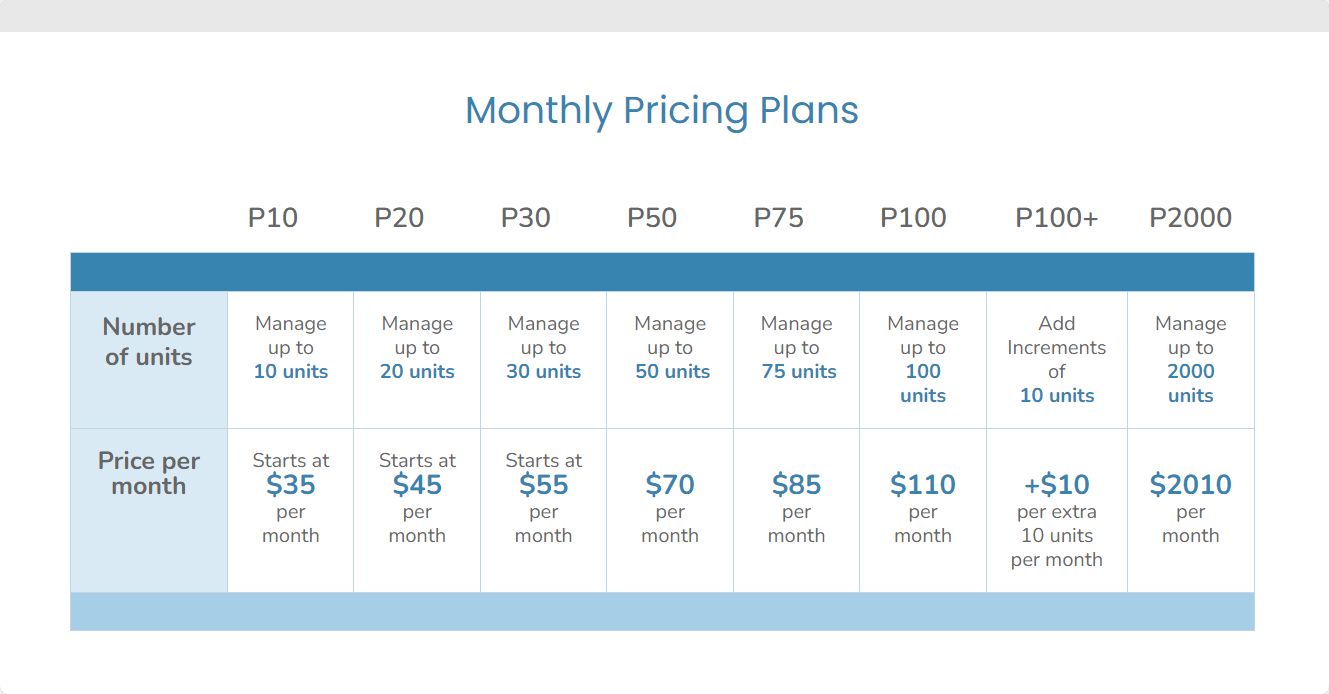 Recap of key points
Most rental management software in the market are owned or acquired by big corporations that charge too much per unit basis or features. While some of the features are just vanity features that are of little to no use for small landlords in day-to-day management. 

In my review, I found RentMe, the best choice as property management software for small landlords. It is built by a team of landlords, so they know precisely what features a landlord needs in their software. Furthermore, they made it 'free forever' for landlords, making it a no-brainer choice.