Whenever customers arrive at a restaurant, the first thing that catches their attention is the restaurant's decor or interior design. 
More than the food, your restaurant's unique theme can influence people more. 
Also, it is the first impression of the restaurant. So make it worth remembering for your customers. 
Today in this blog, we will cover the 25 best restaurant decor ideas complimenting modern, fancy, and traditional looks.
So let's get started!
25 Restaurant Interior Design Ideas for Creative Inspiration
Creativity plays a vital role for interior designers as they skillfully tune designs, colors, and aesthetics to create captivating environments. The right mix of these elements can completely transform the overall look and appeal of the restaurant into a unique and distinct appearance.
When working on a restaurant's infrastructure, it is crucial to consider the seven fundamental elements of interior design: color, form, light, line, pattern, texture, and space. By incorporating these elements harmoniously, you can craft a stylish and imaginative atmosphere for your restaurant, attracting patrons who will delight in dining within its captivating ambiance.
1. Embrace Guests with a Heartwarming Welcome
First and foremost is to warmly welcome your guests by offering them a sweet smile and good eye contact. 
And remember to make your entrance passage inviting, aesthetically pleasing, warm, welcoming, and attractive.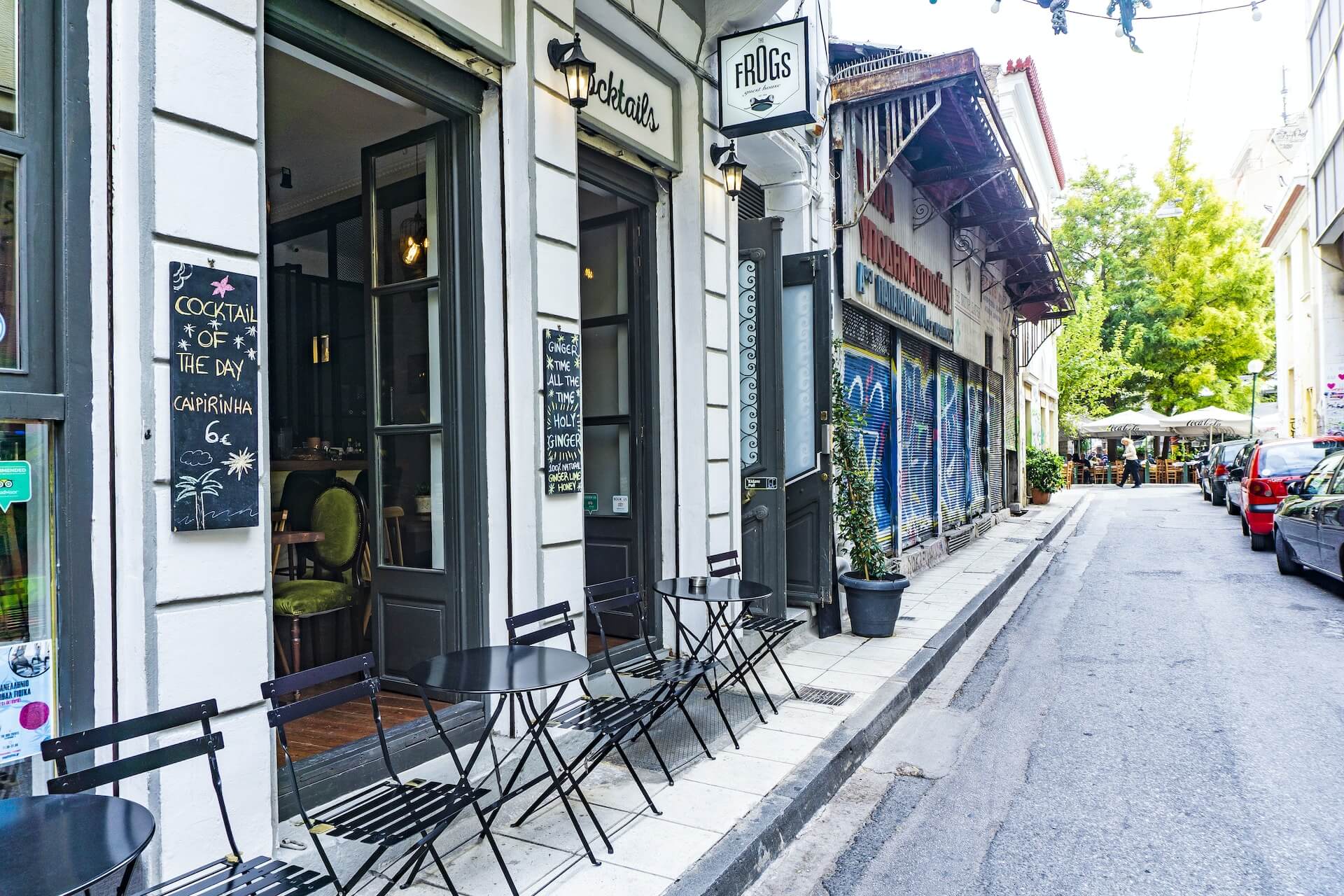 2. Attract with an Accent Wall
The accent wall is the main focal point of your customer, so it needs to be different and worth looking for.
All you need to do is to make one statement wall that catches everyone's attention and adds that extra element to your restaurant.
You can make accent walls by using stencils, mirror work, using fine art in Japanese style, fine brush art, or can be painted differently from the rest of the walls. 
Also, you can use different textures, shapes, patterns, and tools to give that edgy look.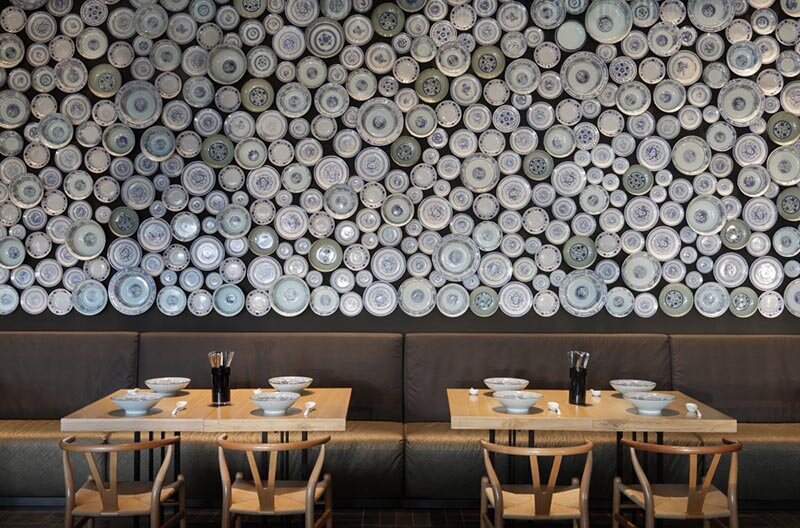 3. Choose a Theme
Selecting a theme for your restaurant is vital as it has a major influence on the customer and decides the place's ambiance. So choose it wisely. 
The theme should follow a specific niche and not be confusing with multiple styles. 
Take this forest-themed restaurant interior for an example.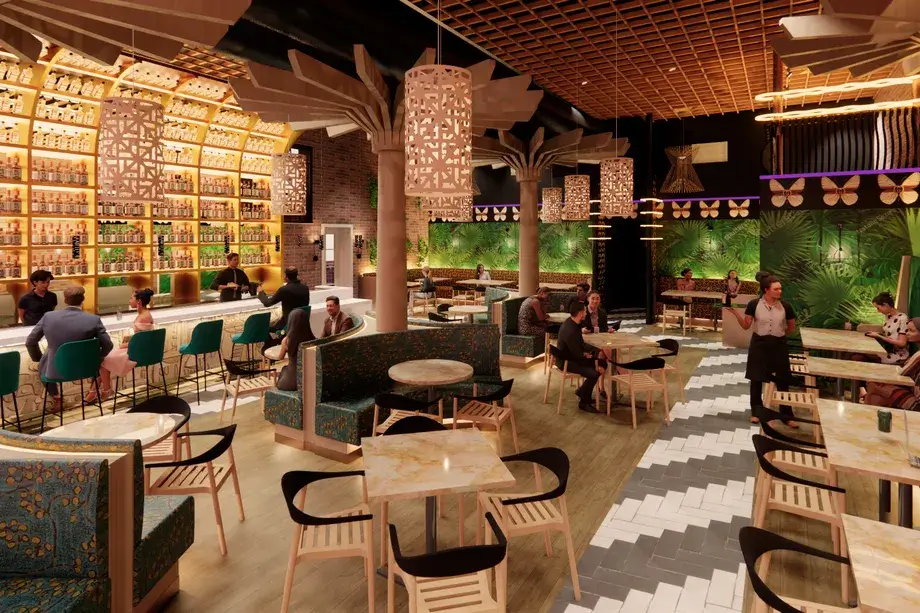 4. Infuse with Greenery
Who doesn't like greenery in their restaurant? No one, Right?
It enhances the beauty and gives the restaurant a more aesthetic look. 
Also, many people love spending time in greenery as it helps boost their mood and eliminates stress. 
According to scientific research, plants can reduce 87% of the air toxins in just 24 hours, eventually making the air pure.
Here are some ideas to infuse greenery in your restaurant, such as placing plants on shelves, hanging them on ceilings, or dedicating an entire wall to the greenery.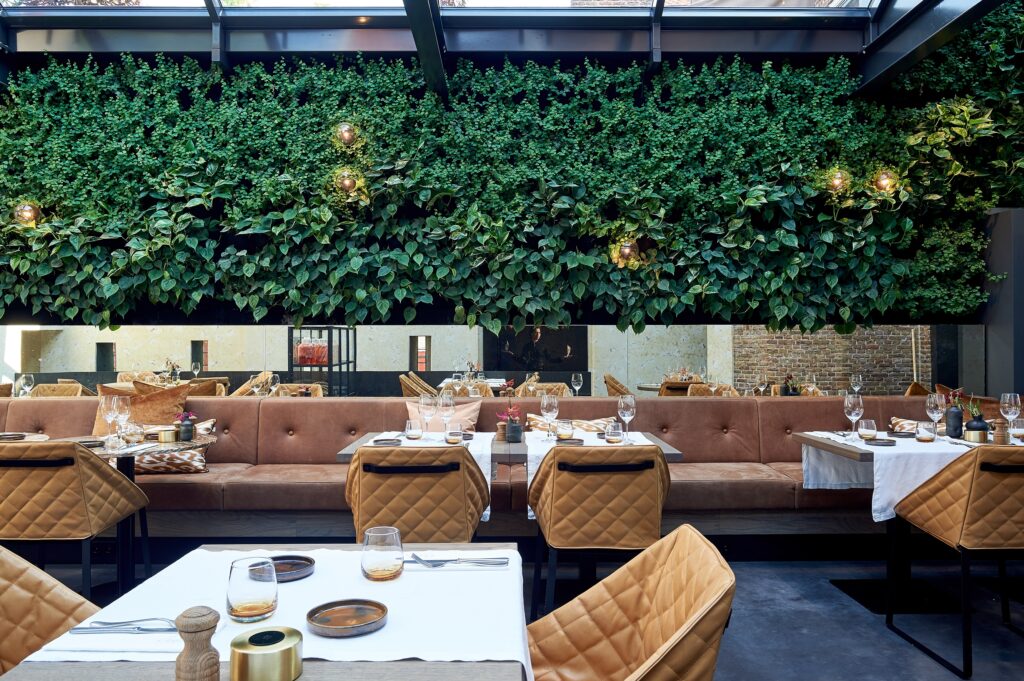 5. Hanging Modern Light Fixtures
Prominent light fixtures are common to all modern restaurant interior designs. 
Lighting is one of the best ways to make any boring space attractive.
Smartly placed light fixtures can glorify the space greatly. 
These days there are many modern lighting ideas available in the market, but before finalizing anything, make sure it goes well with your brand image.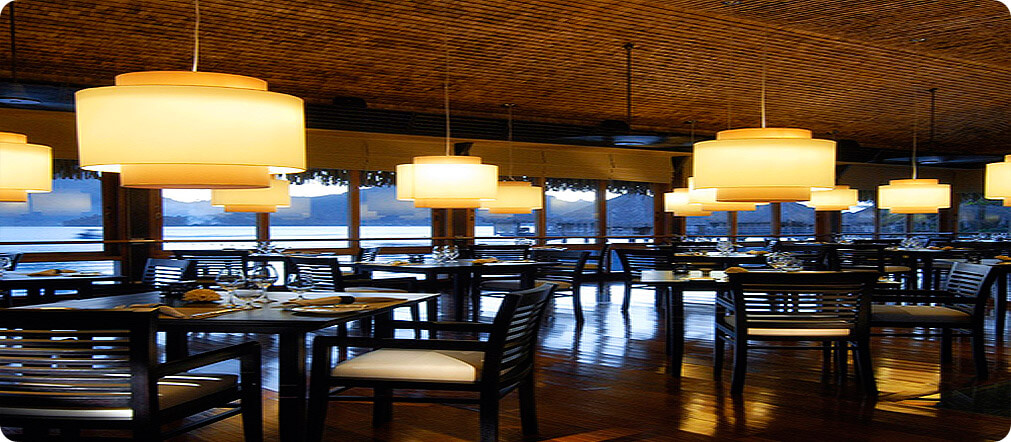 6. Nod to your location
"Nod to your location" refers to incorporating design elements inspired by the local environment or cultural context. 
It helps create a sense of belongingness, adds authenticity and uniqueness to the dining experience, and allows patrons to feel a deeper sense of place.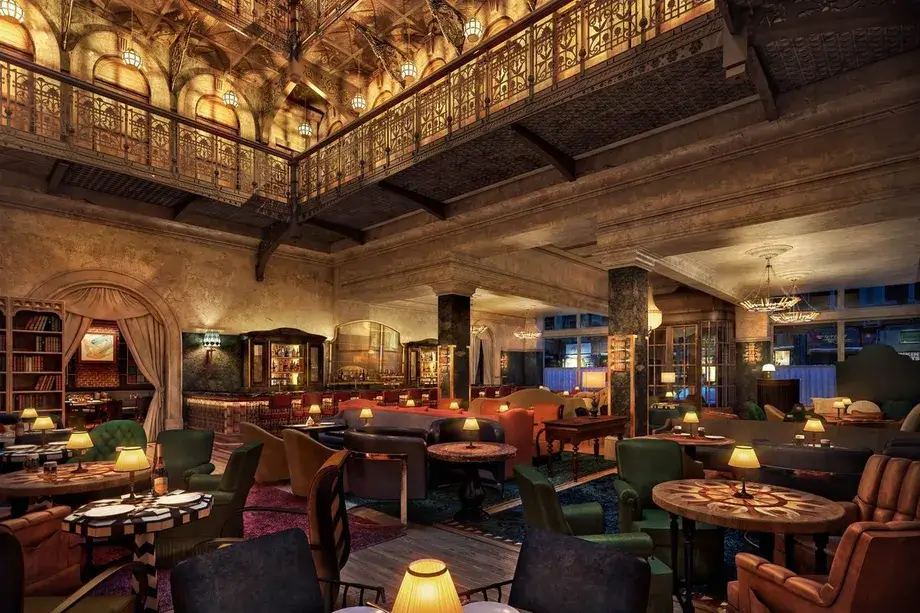 7. 

Showcasing Homegrown Art

Focus on featuring local art rather than generic wall decor as it seems iconic to the customers and depicts the community's talent. 

And the perfect example of a featured local art collection is Proof on Main, which is located in downtown Louisville's acclaimed 21c Museum Hotel. Known for its modern art and incomparable ambiance.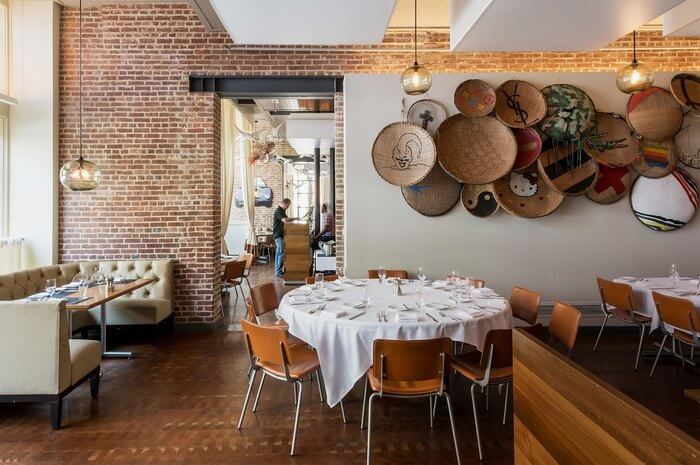 8. Unleash Your Creativity with Chalk
You can create a chalkboard for your restaurant to grab your guest's attention. 
Chalk is dynamic, versatile, and loved by people of all ages. 
You can make a name board for your restaurant with the help of chalk or create an accent wall where you can write a menu.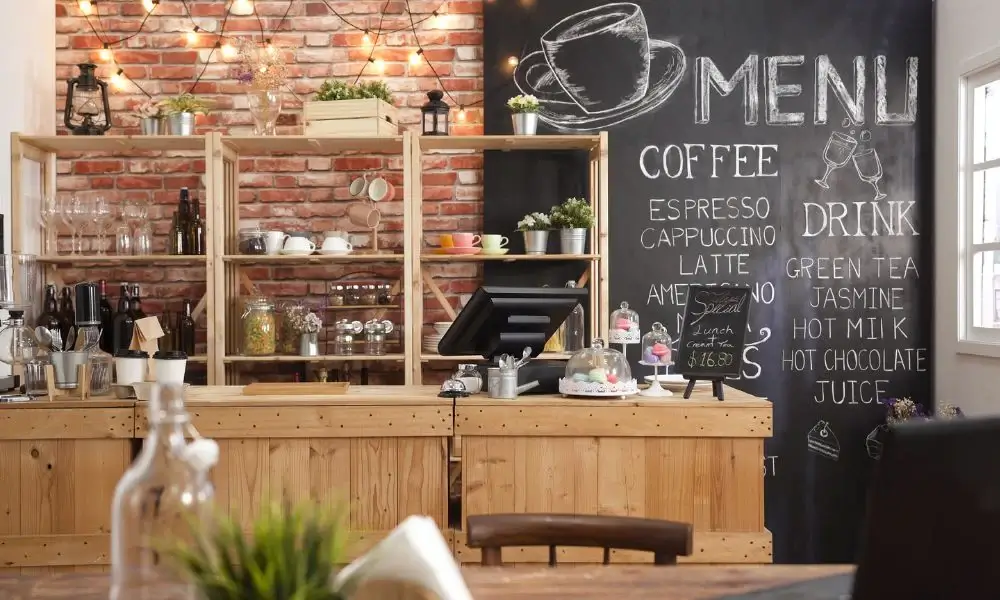 9. Celebrate the Beauty of Communal Dining
As in Barbara Osteria in Millan, Italy, they serve their guest with a few long tables sitting in the middle of the room so that large troops can gather. This help in promoting communal dining.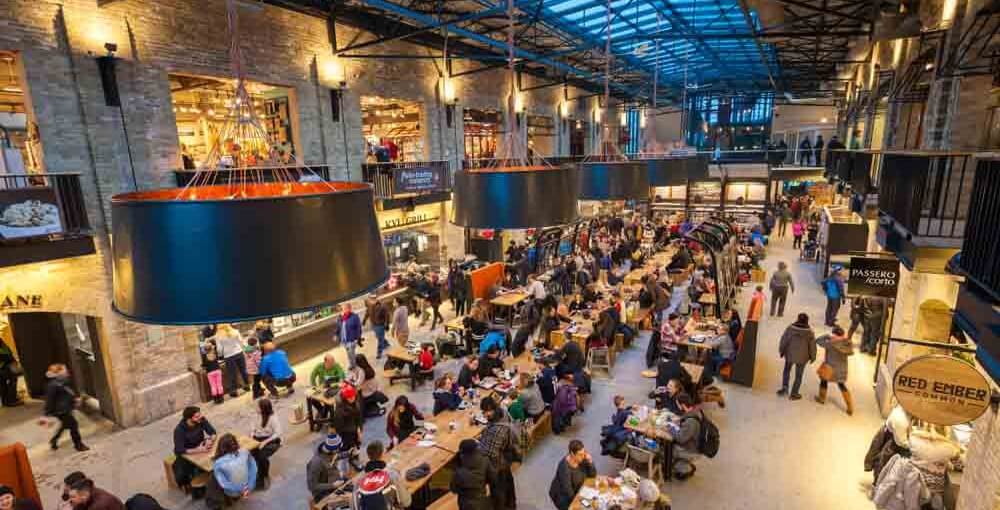 10. Open Restaurant Kitchen
The kitchen is the key area of any restaurant, and it should be located in the center to focus on. 
Highlighting the kitchen as a central feature adds visual appeal and enhances the overall dining experience.
Locating a kitchen in front and center of the eyes of your guests allows them to catch a glimpse of the magic happening behind the scenes and can easily smell the aroma of your delicious food.
By highlighting the kitchen, you create a sense of transparency, excitement, and connection between the diners and the culinary craftsmanship, leaving a lasting impression on your guests.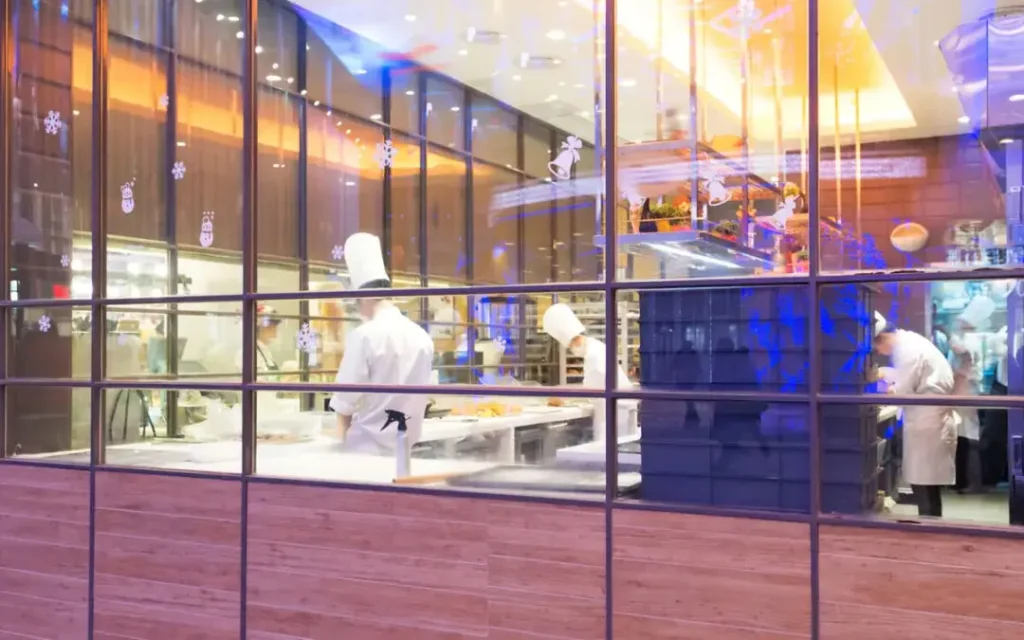 11. Try Artistry of Typography
Using typography as a restaurant decoration idea, your brand can infuse into the environment. 
Try making a font mural of your restaurant's name on an accent wall, like the one below.
12. Pay Homage to Timeless Classics
Retro, vintage, and traditional restaurant interior designs have always stayed in trend. 
Please do not overdo it; combine the old and the new by adding vintage-inspired design features. 
As seen in this gorgeous seating area at Juliette restaurant, Mumbai, has true vintage charm.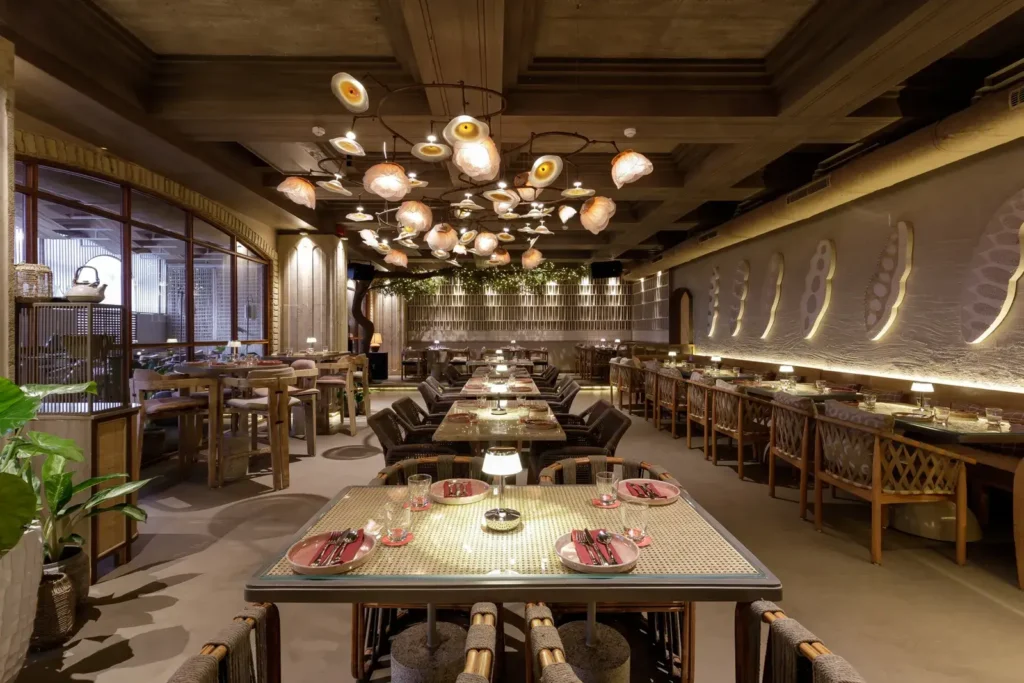 13. Reflect and Shine: Incorporating Mirrors in Design
It is a traditional way to use a mirror in a design to increase the visual of your space in Shabeebek in Dubai, United Arab Emirates. 
You could use a mirror for that big illusion if your dining area is smaller.
Also, creating an art gallery with a mirror on one of the walls and placing them on opposite sides helps maximize light and make your room bright.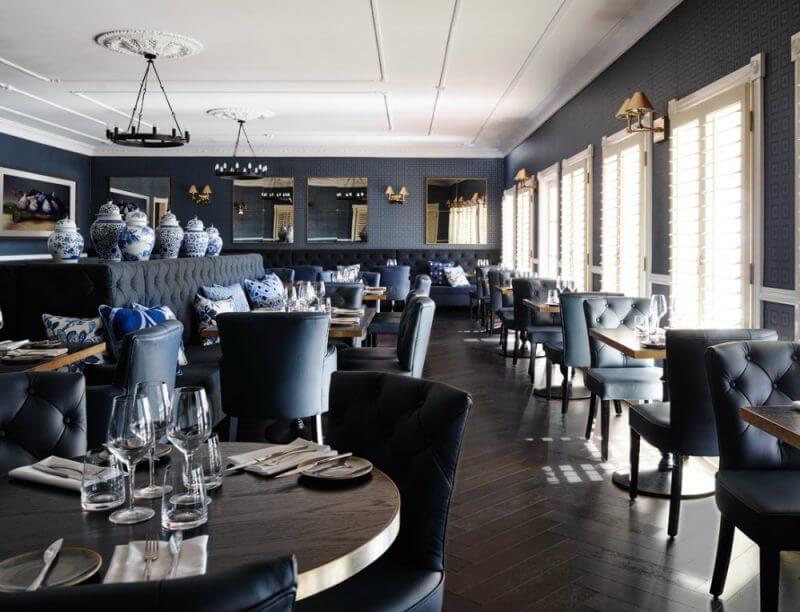 14. Transform Your Bar into the Ultimate Showstopper
You can create a bar with visually appealing eye-catchy lighting as the beating heart of a restaurant.
Some people have a different soft corner in their hearts for bars altogether.
You can consider incorporating eye-catching elements such as backlit shelves to showcase an impressive selection of spirits, wines, or craft beers. 
Install a visually appealing mural or artwork that complements the bar's theme, whether it's a rustic, industrial, or modern aesthetic. 
Also, you can create expensive seating like in this bar of Poka Lola Social Club.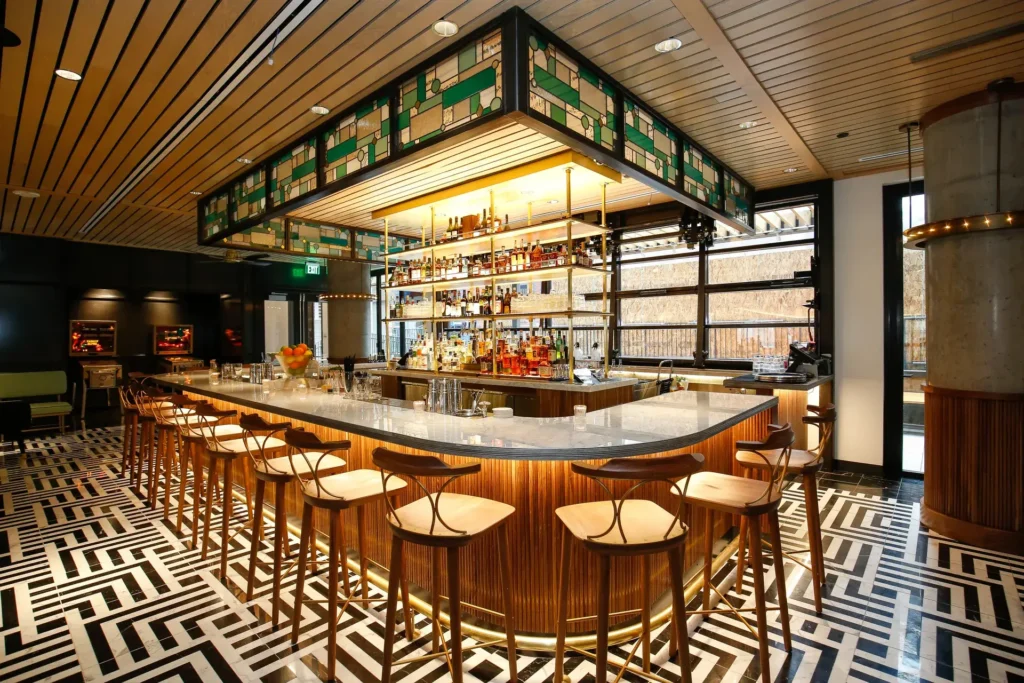 15. Step Up Your Style: Installing a Funky Floor
Flooring plays a very important role in making your restaurant unforgettable. 
Nowadays, many creative and fun flooring options are available in the market, allowing your guest to be posted on social media. 
You can create a creative floor and add that fun element to your restaurant.
Choose a design that complements the rest of your decor like they did in Koi Cafe, Vietnam.
Installing funky floors like this will give your customers an experience and also act as a publicity tool for your restaurant.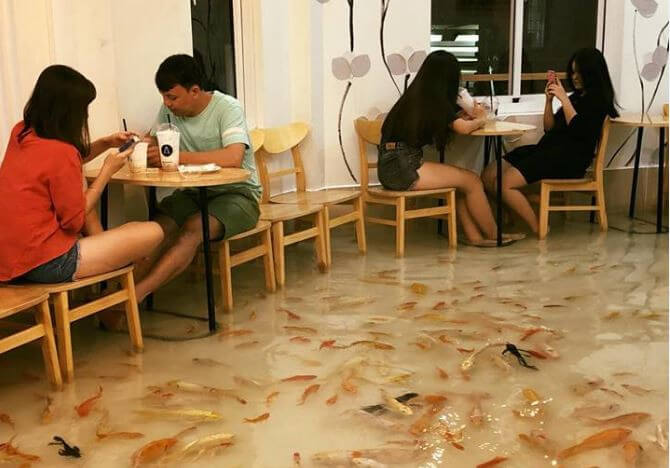 16. Go for a Minimalist Vibe
As that famous saying goes, "The least is the best". Putting less prominent things in focus will help you emphasize your main elements.
Use empty spaces or white colors for your interior design to give that minimal look to your restaurant.
Here's a great example of utilizing minimalism in favor of a restaurant's high aesthetic appeal.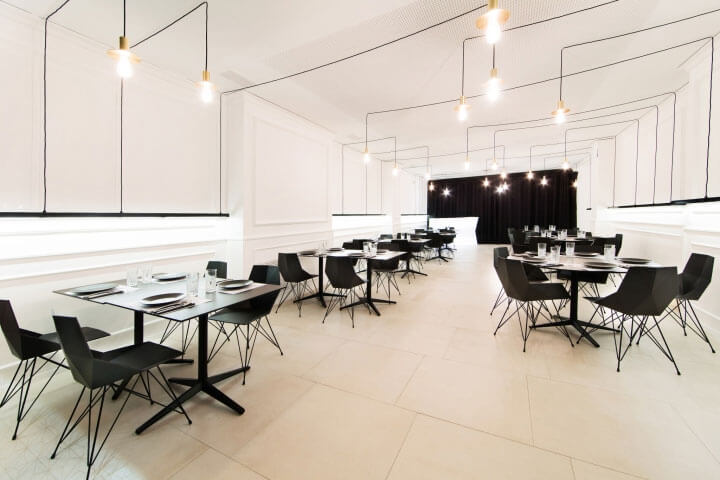 17. Go Beyond Standard Seating
The seating plan in a restaurant plays a very important role, not just for aesthetic purposes but also for managing the crowd and serving them well.
Booths, tables, and chairs can completely change the entire dining experience.
The good news is that they can be both cozy and fashionable. 
The Patio on Lamontin San Diego is a great example of pleasing seating.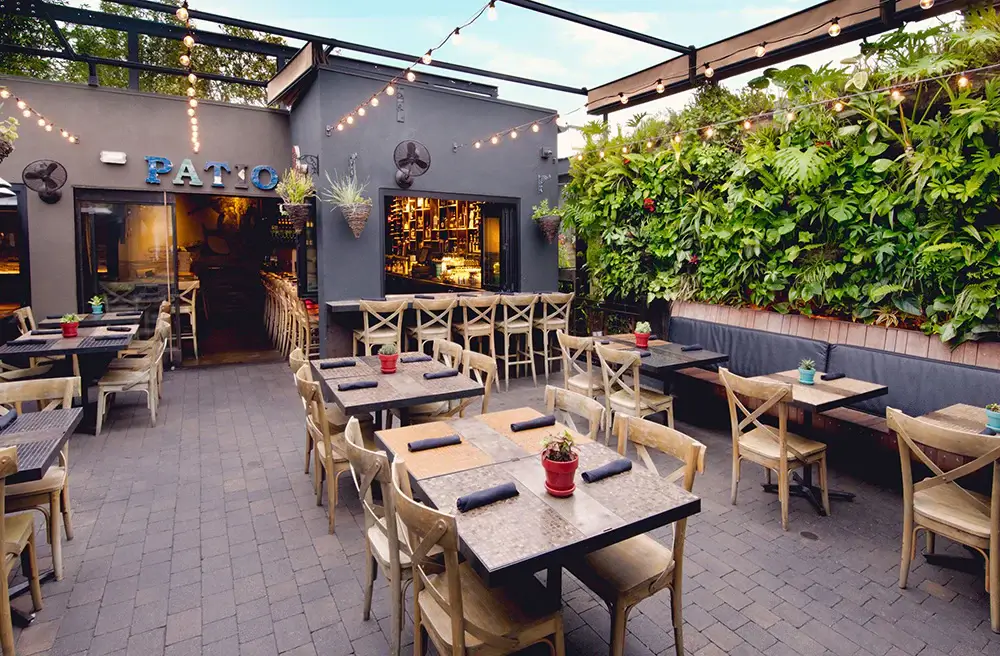 18. Curate Your Tablescape
Nobody likes cluttered tables, so make sure you decorate your restaurant table so it has plenty of space to play around with food.
All you can do is add a little flair with a simple touch, just like at Grand Park, a Singapore-based restaurant.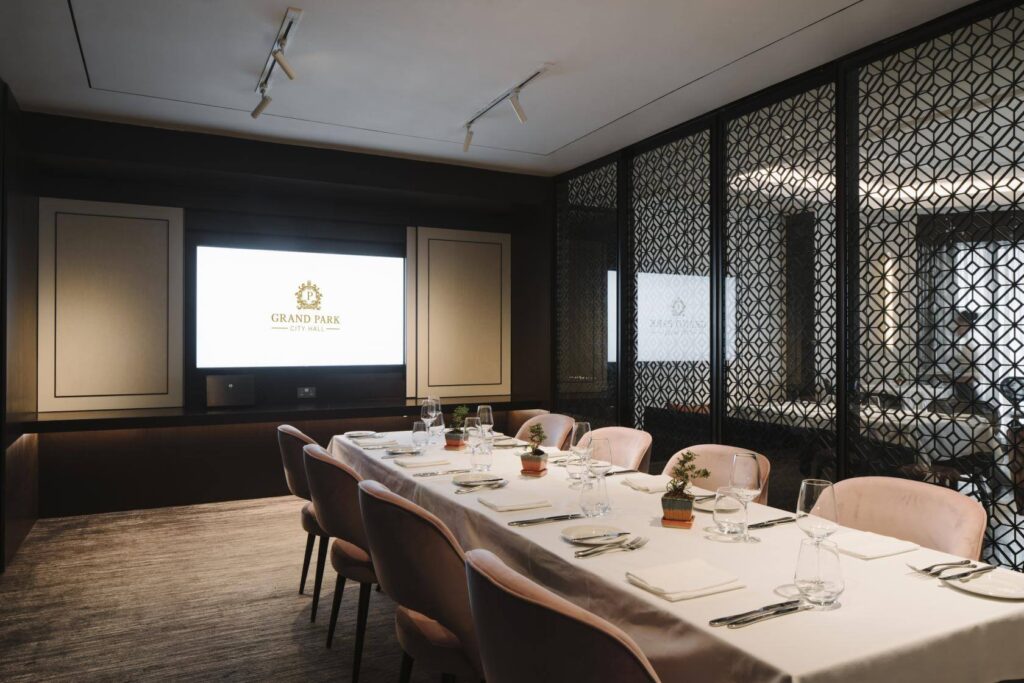 19. Revitalize Your Patio Space
During Covid-19, many restaurants became innovative with their outdoor dining areas as everyone became health conscious and wanted fresh air. 
And you know what a guest's favorite is and will remain unchanged forever? That is the outside oasis. 
You can take notes from Frisco, TX on how beautifully they incorporate greenery in their restaurant patio.
They constructed their patio around majestic trees that add extra magic to the restaurant.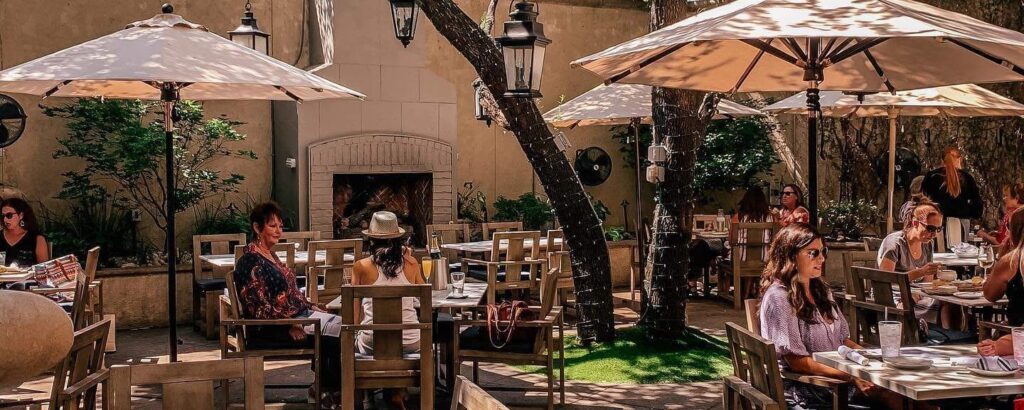 20. Capture Attention with Stunning Ceiling Designs
You don't need to create a dramatic gothic ceiling with wooden beams to draw your customer's attention.
Using textures or colors, you can transform and give the ceiling a different look. 
This restaurant styled its ceiling with suspended wood veneers.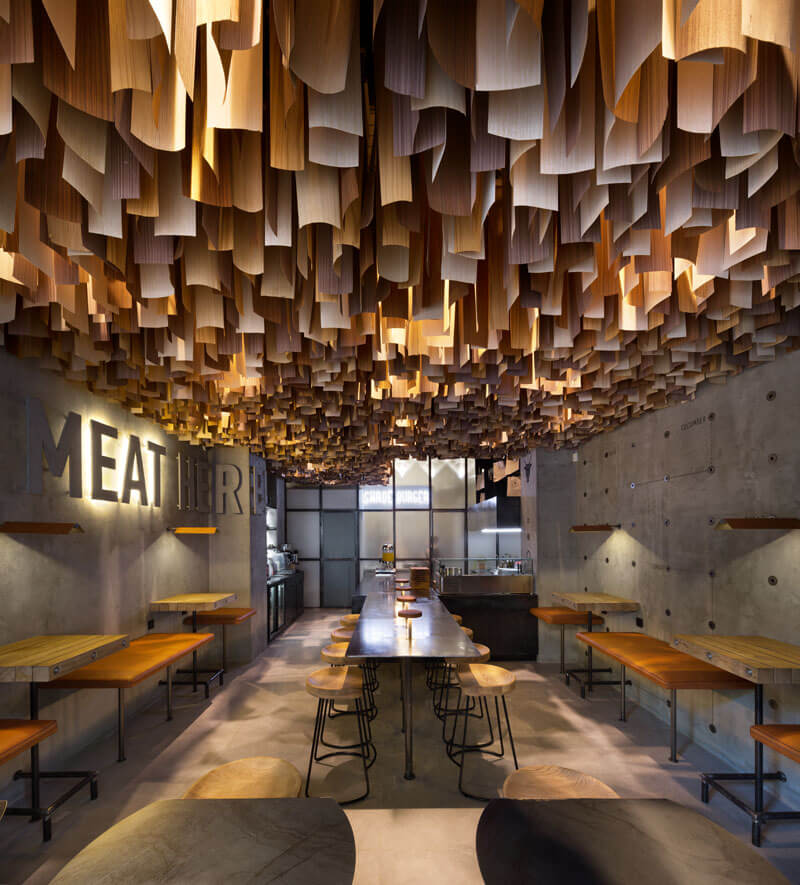 21. Create an Airy and Open Atmosphere
Modern restaurants are made to keep the space open, airy, and less crowded.
People these days like minimalism and aesthetic vibes in restaurants a lot. 
And if you have the ability, give your windows the spotlight and encourage your natural surroundings to speak for you.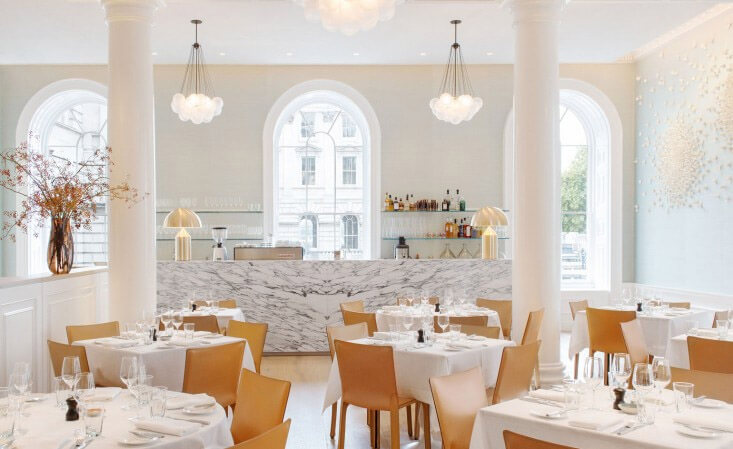 22. Craft a Thoughtful and Strategic Layout
Before selecting furniture and the color of your walls, decide on the facade of the restaurant and its kitchen.
Don't forget to consider the flow of your restaurant from front to back and ensure guests have ample space to walk around.
And here is another important thing that needs to be kept in mind: traffic jams in restaurants are a big no-no. So be extra vigilant in locating the kitchen and washrooms.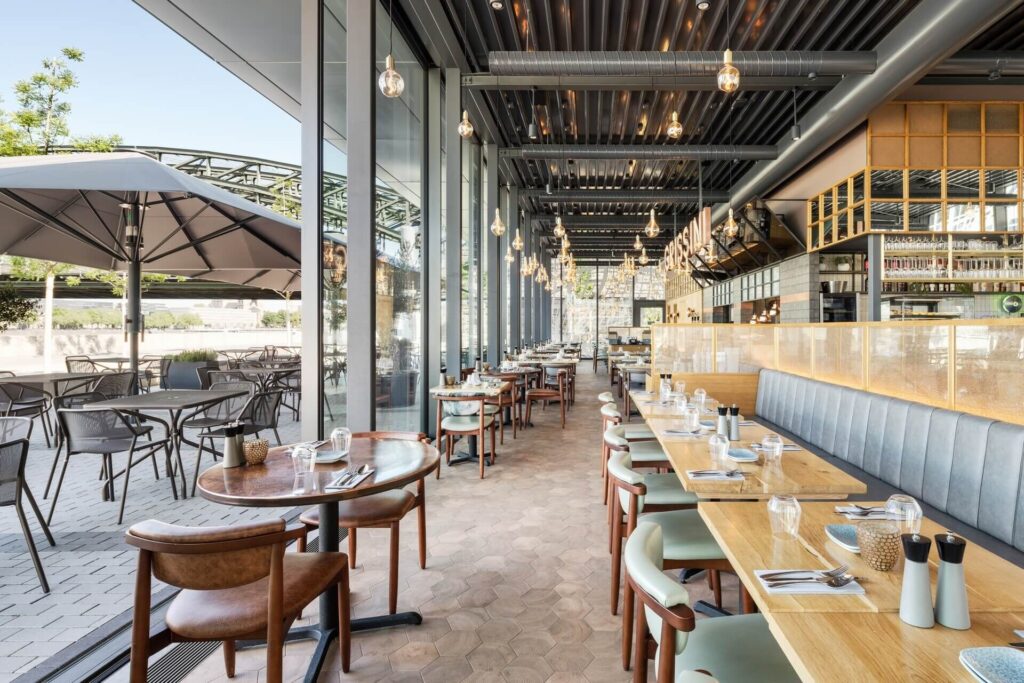 23. Master the Art of Purposeful Lighting
Proper lighting can make or break the first impression of your restaurant. 
Make sure that your lighting gives a soothing effect, which you can get right when there is a proper combination of natural and artificial lights.
Also, you can use lightings that adjust automatically according to the time of the day.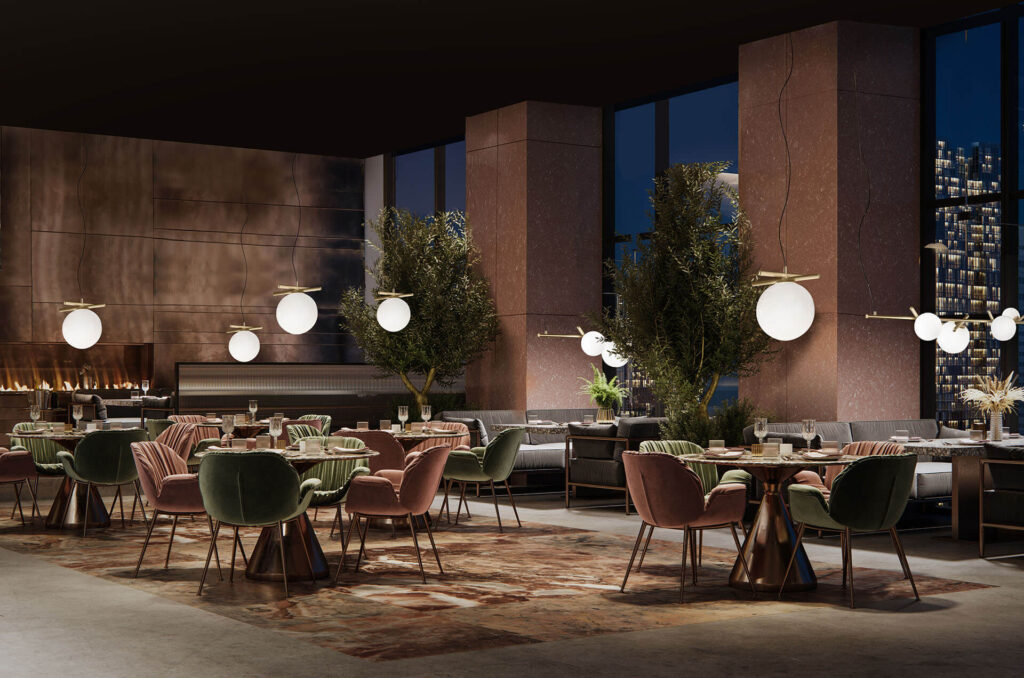 24. Selecting the Ideal Color Palette for Your Restaurant Concept
Colors decide the whole ambiance of the area and set the mood of your visitors, so choose them wisely.
It increases brand awareness by 80% and influences 85% of buying decisions.
Choosing the right color is a task in itself. Using dull colors can make the restaurant look boring, so try to go for some fun, bright, and vibrant colors, without going overboard on it.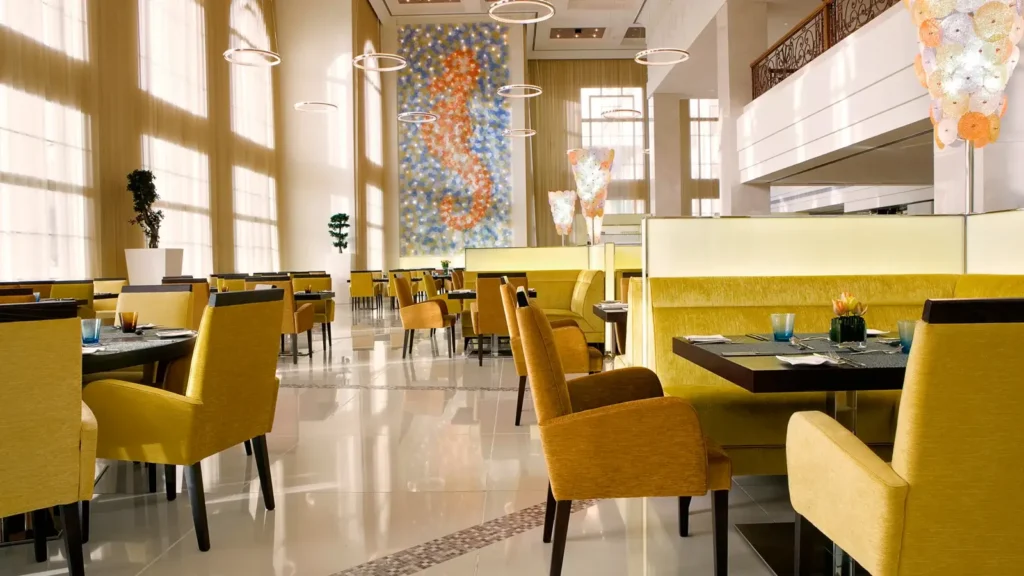 25. The Impact of Sound in Your Space
Apart from food and decor, there is another important thing that will make a huge difference to the guests' whole experience: music.
The music hits differently. Your food and decor might be award-winning, but if it is not aligned with the perfect chord according to the taste of your audience, then it might lead to a bad experience.
Music is something that has the intensity to revive your sweet memory. So when you select the music and tone, remember your visitors. 
Also, the soothing volume should attract the mild attention of visitors, not distract them.